Welcome to the Greeley
Seventh-day Adventist Church
---
Worship Service Times
Sabbath School 9:30 A.M.
Worship Service 10:40 A.M.
- - - - - - - -
Weekly Events at Church

Last Day - Events - Shawn Korgan
Sabbath 4:30 P.M. to 6:00 P.M.
- - - - - - - -
Bible Stories in Scripture
Monday - 6:15 - 7:30 P.M.
- - - - - - - -
United Prayer Meeting
Tuesday 6:30 - 7:30 P.M.
- - - - - - - -

About Us      Calendar         Bible Study      Sermons      ACS School       Online Giving      Contact Us      Links
---
Devotional from the Pastor
November 1, 2018
Thank You - I want to say thank you to the Greeley Seventh-day Adventist Church.  As a church you have truly made this a very special month for me as your pastor.  Above that, you've been able to do the same for my family.  We are truly humbled at your generosity to us and the love you have shared with us through cards, gifts, and little notes of appreciation. We are greatly blessed to have you as part of our greater church family.
I believe that God has great and wondrous plans for the Greeley church in the coming days.  I'm excited at what He is already doing and can't wait to be a part of what is to come.  I pray that we as a body will continue to come together in unity with each other and with Christ in the Holy Spirit to fulfill God's plans for us in the Greeley community.  I also pray for continuous and extraordinary growth for each of us as individuals in our personal walk with our Lord and Savior.
Philippians 1:3-11 applies as a good closing to my personal thanks to you as a church body. "I thank my God upon every remembrance of you, always in every prayer of mine making request for you all with joy, for your fellowship in the gospel from the first day until now, being confident of this very thing, that He who has begun a good work in you will complete it until the day of Jesus Christ: just as it is right for me to think this of you all, because I have you in my heart, inasmuch as both in my chains and in the defense and confirmation of the gospel, you all are partakers with me of grace.  For God is my witness, how greatly I long for you all with the affection of Jesus Christ.  And this I pray, that your love may abound still more and more in knowledge and all discernment, that you may approve the things that are excellent, that you may be sincere and without offense till the day of Christ, being filled with the fruits of righteousness which are by Jesus Christ, to the glory and praise of God.
Thank you and God bless each one of you,
Pastor Jason Logan
October 24, 2018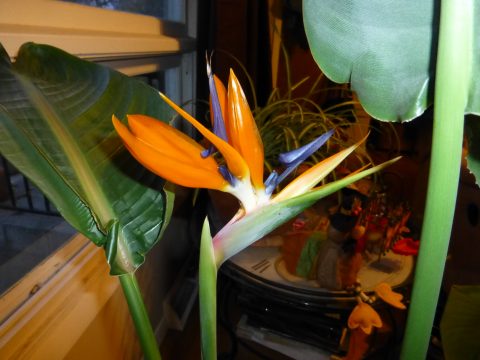 Bird of Paradise - If you were to walk into the front door of our house you would notice a very, very large plant that has a very commanding presence in our living room.  I've heard comments from some folk when they hit their head on the leaves wondering why we'd have such a big plant in our house.  I want to share the story of that plant and why we'd never consider getting rid of it.
Most of you know that Jason has battled with cancer twice.  His last time was back in 2008.  While he was going through his chemo process I got out a seed catalog to plan for the spring and the garden that I was going to grow.  Now, I'm the vegetable garden person in our house and Jason is the flower person.  I know that might seem a little flip flopped but I could care less about plants that don't serve a purpose.  As I was looking for vegetable seeds, Jason was looking for flower seeds.  He came across a plant called a Bird of Paradise.  Normally I don't think that this plant would have intrigued him too much but after reading through the description he decided he had to have it.  The reason?  It took three years before it would bloom.  Why was that significant?  Jason decided that it was his goal to beat cancer and be alive to see his Bird of Paradise bloom.  So, we ordered it.
When the seeds arrived, Jason planted them and babied them.  We've never had much luck growing seeds inside and starting plants that way but he took extra special care of these plants.  Before we knew it, we had eight healthy plants growing in a tiny pot.  We took those eight plants and transplanted them into bigger pots.  Our Birds of Paradise began to grow and grow and grow.  We transplanted again into an even bigger post and they grew bigger and bigger.  We selected one of the healthiest plants and dubbed it "the one".  Jason made it through his chemo and we waited three years for our Bird of Paradise to bloom.  Those three years came and went and nothing.  Another three years came and went and again, nothing. 
It took our plant eight long years to finally get its first bloom.   It was one of the most exciting and beautiful experiences.  Jason's goal was to make it three years to see it bloom and here we were eight years later and our plant was blooming and Jason was there to see it.  It was like God's promises were poured out on us. 
Our Bird of Paradise has bloomed four times now and even though it's extremely large, 5 feet 3 inches now,  we will never get rid of it.  Every time I look at it, or it gets a new leaf, or a flower starts to bud  I'm reminded of God's faithfulness in our lives and how he delivered my husband from death.  Praise the Lord, yesterday we celebrated Jason's 10 year cancer free anniversary!
God saved Jason's life and our plant continues to grow but truly everything in this world will one day end but that doesn't have to be the end for you or for me. Read God's promise in 1 Peter 1:23-25.  "For you have been born again, not of perishable seed, but of imperishable, through the living enduring word of God.  For, 'All people are like grass, and all their glory is like the flowers of the field; the grass withers and the flowers fall, but the word of the Lord endures forever.'"