Everyone Welcome
Sabbath School and Church
Adult Sabbath School is meeting in the sanctuary at 9:30 a.m.. There is one adult class upstairs and all the children's classes will meet downstairs. Everyone is welcome!
Everyone is welcome to attend the worship hour. It starts at 10:45 a.m.  
We broadcast Church live on youtube.com. Church will start at 10:45 AM.  Go to youtube.com and search for "greeley sda".  Click on the circle with the church picture.  You may need to choose the "Videos" tab.
OR click on the "Sermons" link in the menu selections above to access the services. (On a phone or tablet the menu selections will be in a button that looks like three bars at the top of the screen.)
---
Weekly Church Meetings
Monday - 4:00 p.m.  Bible Study on Doctrines
Wednesday - 1:30 p.m.  Midweek study - Last Day Events
Sabbath 4:00 - p.m.  End Time Events with Shawn Korgan
---
Food for Thought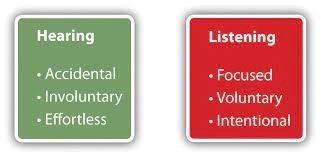 Hearing and/or Listening - "My dear brothers, take note of this: Everyone should be quick to listen. . ." James 1:19
Jerry had gone with me to the doctor for my follow-up visit after my December illness and hospital stay. When the doctor was finished talking with us, he told us to remain there until the nurse brought in some papers. The doctor left and Jerry started to leave as well. I reminded him we needed to wait for the nurse. "Oh," he said, "I guess I heard that, but I wasn't really listening."
That made me think about the difference between "hearing" and really "listening." (Sorry Jerry!) Eve heard God say not to eat from the Tree of Knowledge of Good and Evil or she would die. She also heard the serpent (Satan) tell her she would not die. Unfortunately, she really listened to the serpent. (Genesis 3)
When Cain's offering was not accepted, God tried to reason with him and explain why he needed to bring a lamb. Cain heard, "but Cain did not listen to God's counsel or ask him for help." (Genesis 4:8 Clear Word) Out of anger he killed his brother who had brought a lamb.
Lot tried to warn his children the angels had told him Sodom would be destroyed. They heard but "they wouldn't listen." (Genesis 19 :15 Clear Word) They perished in the fire that rained down from heaven the next morning.
Samuel, as a young boy, heard God speaking. He also listened, "Speak, your servant is listening." Samuel spent a lifetime listening to God and working for Him. (1 Samuel 3)
Balaam heard God tell him he was not to curse the Israelites, but because of the sin of covetousness, he did not really want to listen. He ended up talking with and listening to a donkey, and finally the sin of covetousness prevailed. (Numbers 22-24)
The disciples heard Jesus predict his death, but that He would rise again on the third day. They heard but apparently they weren't really listening. They were overcome with grief when He died and did not seem to remember a thing about His rising again on the third day.
Isaiah says: "Whether you turn to the right or to the left, your ears will hear a voice behind you saying, 'This is the way, walk in it.'" Isaiah 30:21 May we not only hear that voice, but may we really listen and respond to it.
Sharon Oster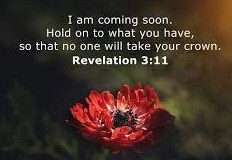 Coming Soon! - "Be on guard! Be alert! You do not know when that time will come. . . . What I say to you, I say to everyone: 'Watch!'" Mark 13:33 & 37 NIV
Jerry and I recently purchased and read Marvin Moore's latest book, "How Soon is Soon?" He says Seventh-day Adventists have been predicting the approach of Christ's second coming for 175 years and it still hasn't happened. He goes on to explore the idea of "soon," but he does say we can be certain Jesus' return is closer today than it was in 1844!
Thinking of the idea of "soon" reminded me of my family's experience with the 1951 flood in Topeka, Kansas. I mentioned once before in a devotional how devastating this flood was for our family, but I want to write about the time preceding the flood.
It began raining in early Spring – relentless rain. Day after day and night after night the rain came down and the Kansas River came up. Our home and family-owned grocery store were on the low side of the river. The warnings started coming – possible flooding – start preparing SOON. My dad began putting things up high at the grocery store. My mom began moving smaller items to the second level of our home. But then the rain would stop for a few days. The river would level or go down. Tensions would ease. Then it would start raining again, endless rain. Rising river, rising tensions. Possible flooding SOON!
This went on during the months of April, May, June, and into July. On the night of July 12 – early morning July 13 – there was a loud banging on the front door. A car was driving down the middle of the street, loud speaker blaring, "GET OUT NOW!" And we left. In my mind I can still hear the sirens blowing a short time later signaling the levees had broken. "SOON" had arrived.
Of course, Marvin Moore doesn't answer the question, "How Soon is Soon?" He didn't know and neither do we. I am reminded of two things: Mrs. White says, "Great changes are soon to take place in our world, and the final movements will be rapid ones. (Testimonies, Vol 9, P.11) Jesus says, "Therefore you also be ready, for the Son of Man is coming at an hour you do not expect." (Luke 12:40)
In Marvin Moore's book "The Delay" he makes the statement "There's a tension between the belief, on the one hand, that Jesus is coming soon and the realization, on the other hand, that He hasn't returned as soon as we had hoped." He reminds us of Mrs. White's words: "God's purposes know no haste and no delay." (The Desire of Ages, 32)  Moore says that we need to apply those words to our situation. Paul said that "when the set time had fully come, God sent His Son." Galatians 4:4  Moore says we can be sure that when the time has fully come again, God will send Jesus back to take us home! (John 14:1-3)  A promise we can count on!
Sharon Oster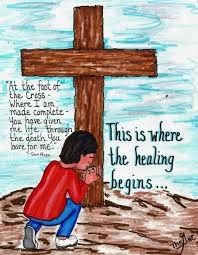 "Drawn to Jesus" - "But I, when I am lifted up from the earth, will draw all men to myself." John 12:32
I well remember my very first day working for the Special School District in St. Louis. This was something totally new to me, and I was nervous as I walked into that classroom. I met and talked with the teacher and was then told I would be working with a Downs Syndrome boy named Andrew.
I sat down beside Andrew, told him my name, and said we would be working together this school year. He eyed me very suspiciously, almost as if he resented my being there, not at all sure he was happy with this arrangement. We spent a lot of time just getting acquainted, getting to know one another.
Before too long when I would walk into the classroom, he would shout, "Mrs. Oster" and come running with a big hug. I worked with Andrew for two years until he finally went on to middle school. Several years later I saw him in a store. Same reaction: "Mrs. Oster!" and another big hug! Spending time with Andrew and getting to know him had made all the difference.
Nicodemus, a proud Pharisee, resented Jesus telling him he needed to be born again. Yet, strangely, he was attracted to Jesus. He felt himself being drawn to Christ. "The softening, subduing influence of the Holy Spirit impressed his heart." For three years he did not publicly show his love for Jesus, but he never forgot that night interview. As he looked at Jesus on the cross, he knew He was the world's Redeemer. (DA, "Nicodemus" pp. 167-177)
Andrew had been very apprehensive, maybe even resentful, when I first started working with him, but over time he came to fully trust and even love and respect me. Nicodemus was cautious and questioning at first, but he became firm as a rock. "He faltered not in the faith which had its beginning in that night conference with Jesus." (DA, p. 177)
As we spend time with Jesus, His love will draw us to Him. Mrs. White says, "If we do not resist this drawing, we shall be led to the foot of the cross in repentance for the sins that have crucified the Saviour. Then the Spirit of God through faith produces a new life in the soul." (DA, p. 176)
May we never resist this drawing.
Sharon Oster