Welcome to the Greeley
Seventh-day Adventist Church
---
Worship Service Times
Sabbath School 9:30 A.M.
Worship Service 10:40 A.M.
- - - - - - - -
Weekly Events at Church

Last Day - Events - Shawn Korgan
Sabbath 4:30 P.M. to 6:00 P.M.
- - - - - - - -
Bible Stories in Scripture
Wednesday - 6:15 - 7:30 P.M.
- - - - - - - -
United Prayer Meeting
Tuesday 6:30 - 7:30 P.M.
- - - - - - - -
Directions to Church
---
About Us      Calendar         Bible Study      Sermons      ACS School       Online Giving      Contact Us      Links
---
Devotional from the Pastor
September 13, 2018
Study to Show thyself Approved - I hear, it seems, on a weekly basis from somebody that they think we are very close to the second coming of Christ.  I agree wholeheartedly with this.  If that be the case, how much more serious should we be about our studies of Scripture? How much more sure should we be on a personal level of what we truly believe?  In 1 Timothy 4:1, 2 we receive this warning, "Now the Spirit expressly says that in latter times some will part from the faith, giving heed to deceiving spirits and doctrines of demons, speaking lies in hypocrisy, having their own conscience seared with a hot iron."  If we believe that Jesus is coming soon, how much more sobering these verses should be to us.  Is this happening?  Are deceptive doctrines coming in?  Are men and women leaving and following falsehoods?
These things are happening and we must know what we believe.  2 Timothy 3:13, 14 says, "But evil men and impostors will grow worse and worse, deceiving and being deceived.  But you must continue in the things which you have learned and been assured of, knowing from whom you have learned them."  Do you know what you have learned?  Is it Biblically based?  If so, stand firm and study continually to confirm and fine tune your understanding of the Scriptures.  "Be diligent to present yourself approved to God, a worker who does not need to be ashamed, rightly dividing the word of truth." (2 Timothy 2:15) 
I pray that the Word of God would be to me more important than my physical food.  That I would only trust that Word to be a "lamp unto my feet, and a light unto my path" (Psalm 119:105).  I pray it would be the same for all of you, dear readers. Amen!
September 5, 2018
"The True Gospel" - There's a quote from John MacArthur that goes like this, "The true gospel is a call to self-denial. It is not a call to self-fulfillment." If our focus is on self-fulfillment in our walk with Christ it is actually based on selfishness. What do I mean by that? Let me try to elaborate.  If my focus is about all of the benefits that I can get in this life, such as financial blessings or material blessings or maybe my focus is on all of the great things that I'll receive in the life to come when I get to heaven, if that is my focus, I'm afraid the reality might be that I may not even make it to heaven to enjoy it all.
To give one's life to Christ is actually a call to deny myself these things. To live a life of self-sacrifice and self-denial. Does that mean that I won't have any of these things, no.  However, is it my focus to get these things or have I been blessed by God to have them. Jesus said, "Do not lay up for yourselves treasures on earth…but lay up for yourselves treasures in heaven…" He concluded that thought with, "For where your treasure is, there your heart will be also." (Mt. 6:19-21)
The amazing thing is that through self-denial we as Christians don't miss out.  Jesus often promises us that as we deny ourselves here on earth we will store up treasures in heaven.  So, we don't even need to focus on the gifts of heaven.  He has promised us that if we're faithful here we will indeed receive all heaven has to offer.  Remember, "No one can serve two masters; for either he will hate the one and love the other, or else he will be loyal to the one and despise the other. You cannot serve God and mammon." (Matthew 6:24)
On top of all of that, Christ promises us we don't have to worry about or focus on our material needs here on earth. He assures us that He knows our every need and will provide accordingly, as long as we "…seek first the kingdom of God and His righteousness". If we do this, "all these things shall be added to you." (Matthew 6:25-34, specifically verse 33).
Simply put, our focus as a Christian must be on others.  If my focus is always on me and my desires and wants it becomes a misrepresentation of the gospel.  Of course, Jesus is our best example of selfless living, servant living.
August 29, 2018
The Route to Greater Spiritual Life in the Church
"Marvel not that I said unto thee, Ye must be born again." John 3:7.
The question is often asked, Why is there not more power in the church? why not more vital godliness? The reason is, the requirements of God's Word are not complied with in verity and in truth; God is not loved supremely, and our neighbor as ourselves. This covers the entire ground. Upon these two commandments hang all the law and the prophets. Let these two requirements of God be obeyed explicitly, and there would be no discord in the church, no inharmonious notes in the family. With many the work is too superficial. Outward forms take the place of the inner work of grace.... The theory of the truth has converted the head, but the soul temple has not been cleansed from its idols....
True conviction of sin, real heart sorrow because of wickedness, death to self, the daily overcoming of defects of character, and the new birth-these, represented as old things, Paul says had passed away, and all things had become new. Such a work many know nothing of. They grafted the truth into their natural hearts, and then went on as before, manifesting the same unhappy traits of character. What is now needed is the plain testimony borne in love from lips touched with living fire.
Church members do not show that living connection with God that they must have in order to win souls from darkness to light. Make the tree good, and good fruit will be the result. The work of the Spirit of God upon the heart is essential to godliness. It must be received into the hearts of those who accept the truth, and create in them clean hearts, before one of them can keep His commandments and be doers of the Word. "Marvel not," said the great Teacher unto the astonished Nicodemus, "Marvel not that I said unto thee, Ye must be born again."
The Bible is not studied as much as it should be; it is not made the rule of life. Were its precepts conscientiously followed, and made the basis of character, there would be steadfastness of purpose that no business speculations or worldly pursuits could seriously influence. A character thus formed, and supported by the Word of God, will abide the day of trial, of difficulties, and dangers. The conscience must be enlightened, and the life sanctified by the love of the truth received into the heart, before the influence will be saving upon the world.
What is needed is men of action for the time, prompt, determined, firm as a rock to principle, and prepared to meet any emergency. Why we are so weak, why there are so many irresponsible men among us, is because they do not connect with God; they have not an indwelling Saviour, and do not feel the love of Christ ever fresh and new.... No earthly relationship is as strong as this love. Nothing can compare with it.-The Review and Herald, August 28, 1879.
August 15, 2018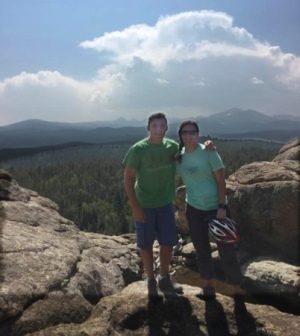 It's been an incredibly busy summer for the Logan family, but we are done with our travels for awhile.  We knew that this would probably be Abby's last summer that could be solely dedicated to family and so we purposefully planned a summer full of memories. It's hard to believe that this will be her last year of school which means that the others aren't too far behind.  It's definitely made me stop and contemplate where our true joy comes from.  My family brings me so much joy but when they're gone will I have developed a relationship with Christ that sustains me through all the changes and transitions?  Am I learning to depend on Him now so I can fall on Him during the lonely times ahead?  Each one of us has struggles, challenges, and changes in our life and we need to make Christ our first defense because He is the only thing that will ever remain unchanged.  Praise God for His faithfulness and mercy towards us.
This picture was taken up at Glacier View Ranch this last week during ministerial retreat.  What a beautiful view.  
--Grace
August 1, 2018
A Day with Jesus - Can you imagine if you could have spent a day with Jesus?  Our family has been reading through the book of Mark for family worships and we recently read chapter 5.  In that chapter Jesus delivers the demoniac, heals a woman who had a flow of blood for 12 years, and raised a little girl from the dead.  Wow, what an amazing sequence of events!  And that is just from one chapter.
In our worship discussion we talked about what is our favorite healing, or miracle that Jesus performed.  We had a wide array of answers of varying types.  It begs the question; what would it have been like to just spend a day with Jesus, to be around Jesus for just one day.  I can't even imagine experiencing some of the things that He did.  Then on top of everything we read about in the gospels, the Apostle John ends his gospel by saying, "And there are also many other things that Jesus did, which if they were written one by one, I suppose that even the world itself could not contain the books that would be written." Jn. 21:25
So, what is your favorite healing or miracle that Jesus performed?  What is your favorite story involving our wonderful Savior?  I suppose your answers would be as varied as my families were the other night, but that's just it.  Jesus was a man that touches all of mankind from all walks of life.  He lived in such a way that it would speak to anybody who would take notice of His life and who He was. 
Try taking your Bible and opening its pages to one of the gospels.  Start reading a chapter and allow yourself to go off in your imagination, and just go and spend a day in the life of Jesus.  You will be blessed and it may just open a whole new way of reading and studying the Scriptures.  After all, Jesus would love to spend the day with you.
July 10, 2018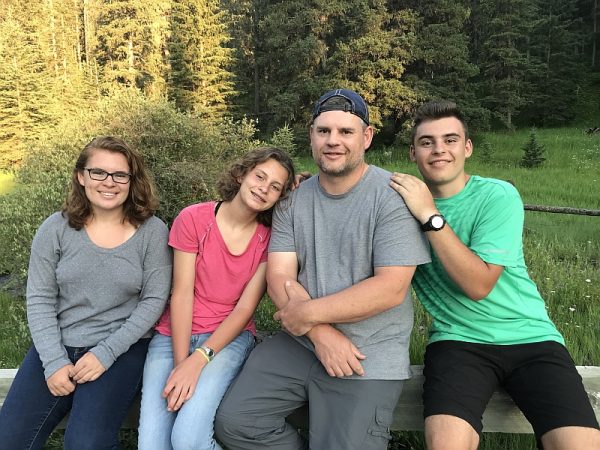 Unplug - We just got back from an amazing week in the Black Hills.  We take a week every year to go camping at one of our favorites places in the world.  There are only 8 campsites with a creek running through and nothing but trees to see.  It's quiet, relaxing and refreshing.  There's nothing to focus on but God, each other, and nature.  Now, I know not everybody loves the outdoors but this is one way our family loves to unplug.  There're no emails, no texts, no phone calls, no screens, no Facebook, no apps—just time to slow down, breathe easier, and make memories that will last a lifetime. 
How do you unplug? Do you unplug?  Our phones and screen time can take up so much of our time and I think it's a great thing to set boundaries when it comes to technology.  Technology is a wonderful thing and very useful but sometimes it can become consuming, a time waster, and even addictive.  I know I find myself going to my phone way too often.  You might be surprised by how much time you spend on your phone.  You can download an app called Moments that will track this for you.  It can be a real eye opener.
I just wanted to give some tips on how you might be able to unplug and be still.  When we're still it's so much easier to hear the voice of God.
1. Set your boundaries.  Sit down together as a family and talk about limits.  Our family doesn't allow phones at the table.  If we get a call or a text we let it go.
2. Use your airplane mode.  This allows you to have quiet time from your phone where no notifications will pop up.  If you don't allow the phone at the table when you sit down to eat, set your phone on airplane mode so you're not tempted to check it when a text comes through.
3. Have a "curfew" for your phone.  Set a time in the evening when you'll put your phone away.  It's a good idea to have an hour of screen free time before bed. 
4. Don't leave your phone in your bedroom.  You'll be tempted to look at it as soon as you wake up.  Put it somewhere else to charge during the night. 
5. Turn off notifications for the apps that you love to look at like Facebook & Instagram.
6. Take a fast.  We like to occasionally fast from our devices.  Sometimes for a few days or sometimes for a week.  We still take phone calls, look at emails and texts but stay away from apps and social media and screen time. 
These are just a few ways you can unplug.  What do you do to unplug?  I'd love to hear your ideas!
--GRACE