Welcome to the Greeley
Seventh-day Adventist Church
---
Worship Service Times
Sabbath School 9:30 A.M.
Worship Service 10:40 A.M.
- - - - - - - -
Weekly Events at Church

Last Day - Events - Shawn Korgan
Sabbath 4:30 P.M. to 6:00 P.M.
- - - - - - - -
Bible Stories in Scripture
Monday - 6:15 - 7:30 P.M.
- - - - - - - -
United Prayer Meeting
Tuesday 6:30 - 7:30 P.M.
- - - - - - - -

About Us      Calendar         Bible Study      Sermons      ACS School       Online Giving      Contact Us      Links
---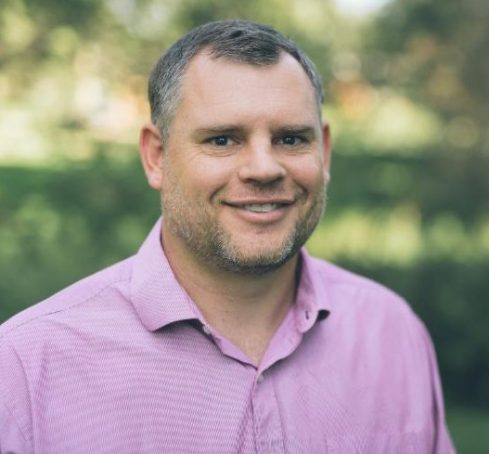 Devotional from the Pastor
January 25, 2019
He Must Increase, I Must Decrease 
Most of us are quite familiar with Jesus' discussion with Nicodemus in John 3:1-21.  Of course, the thrust of the message Jesus gives to Nicodemus is that we must be born again.  He makes it clear that being born again is somewhat mysterious.  The results can be seen, but nobody can really point at where, when, or even what exactly brought about those noticeable changes.  One thing is certain though, without those changes happening (being born again), the spiritual life cannot happen.
I find the rest of the chapter very interesting considering the context of following the rebirth experience.  What is supposed to happen next in the spiritual journey of the born again individual? Well, there is a powerful spiritual lesson in what John the Baptist responded to His follower's inquiry about so many of the followers of John the Baptist leaving and following Jesus.  In verse 30, John simply said, "He must increase, but I must decrease".
Spiritually speaking, that is the same thing that has to take place in the life of the born again follower of Jesus.  I, that is my flesh, must decrease and He, that is the Spirit, must increase.  In other words, the mysterious changes don't stop at the rebirth.  They keep happening throughout the new (spiritual) life journey.  As followers of Jesus, over time, through our walk with Him it should progress in a general way that it is continuously less about me and my desires and more about Him and His desires for me.
John the Baptist understood this to the core, to such a degree that he was fine with and completely understood that it should become less about people following him and more about people following the Messiah whom he was working so diligently to lead them to. As we continue in this ongoing process, this journey, the promise of the last verse in that same chapter becomes more of a reality to us.
John 3:36 "He who believes in the Son has everlasting life..."
  --Pastor Jason 
January 3, 2019
Not As You Are, but As You Will Be - Philippians 1:6,  "Being confident of this very thing, that He who has begun a good work in you will complete it until the day of Jesus Christ;".
What a promise! He will complete it, not me.  He will do it as I submit to His Power working within me.  I'm so thankful to have a Savior who is willing to work with me and in me to accomplish His desires.
As a family, we have been reading a little book titled, "Hinds Feet on High Places", by Hannah Hurnard. It's an allegorical story about a weak, crippled, and fearful young lady who takes on the journey of following the Shepherd. It's a good read with many spiritual parallels that probably all of us can relate to in different ways.
Recently, we read a section in which the main character, Much Afraid, was becoming overwhelmed with her stumbling and slipping along the journey.  She looked at the Shepherd almost with blame for bringing her along on such a difficult path and this was the Shepherd's response to her.  "'Much-Afraid,' said he very gently in answer to that look, 'don't you know by now that I never think of you as you are now but as you will be when I have brought you to the Kingdom of Love and washed you from all the stains and defilements of the journey?  If I come along behind you and notice that you are finding the way especially difficult, and are suffering from slips and falls, it only makes me think of what you will be like when you are with me, leaping and skipping on the High Places."
So, my friend please remember when you are finding the Way especially difficult, you serve a God who has the ability to see you now for what you will be then.  He does not focus on your faults and failings (although He does reveal them to us), but instead He is focused on His relationship with you. He is focused on loving you.  Let's remember to focus on our relationship with Him and loving Him, instead of getting overly focused on ourselves and our shortcomings.  Let's let Him focus on completing the work in us.
--Pastor Jason
December 27, 2018
Resolutions - Well, here we are coming to the end of yet another year.  Meaning it's that time of year where so many make New Year's resolutions for the up and coming new year.  I hope you've had a wonderful year and that it's been a year where you've come to know you're loving Savior more intimately.
New year's resolutions are a strange and interesting thing.    Depending on your source the percentage of failed resolutions is somewhere between 82% and 91%.  Those are not what you would call numbers of success.  Most have tried a New Year's resolution at some time or another and the odds are that if you've tried one you've also failed one.
Jesus spoke very pointedly about making oaths in Matthew 5:33-37: "You know that our ancestors were told, 'Don't use the Lord's name to make a promise unless you are going to keep it.'  But I tell you not to swear by anything when you make a promise! Heaven is God's throne, so don't swear by heaven.  The earth is God's footstool, so don't swear by the earth.  Jerusalem is the city of the great king, so don't swear by it. Don't swear by your own head.  You cannot make one hair white or black. When you make a promise, say only "Yes" or "No."  Anything else comes from the devil."  CEV
The point Jesus is making is that we don't know what tomorrow brings and we can't control anything the future will unfold.  Therefore, we must be very careful with our promises, oaths, guarantees, and resolutions. The safest route to go concerning these things is to keep it simple, if I'm resolved to do something, then do it.  If there is any doubts, concerns, or wavering in my resolve then it's better that I don't make promises that I can't keep. So, if you're planning on making any resolutions in the next few days be very thoughtful and prayerful that they are according to God's will and have His backing in order to keep them, because if we don't have the Holy Spirit to empower us we truly have no control of the outcome in the long run.
December 19, 2018
Merry Christmas! - This time of year is truly a unique time of year in our culture.  It's a time of year that people become much more giving and thoughtful then they are, say 11 months of the rest of the year.  It's also a time when most people seem to be more open to hearing about Jesus.  Now don't get me wrong, there are plenty of things that are not Biblical or edifying during this time as well.  However, I'd rather focus on the positives.
I know that this time of year brings a special nostalgia to me personally as a result of my upbringing. I love to come together with family, to play games, to reminisce, and to give gifts to those I love and who doesn't enjoy receiving a gift as well.  There's just something special about spending the time and money to find something for someone special to you and watching their face as they open it to reveal the surprise.  Let's face it, we love to make those we love happy.  I could go on and on about these wonderful aspects of the Christmas season.
However, there is something that has been on my mind quite a lot the last couple of weeks.  Who can I be a blessing to?  Who do I know who is in great need?  Who can I bless knowing that I won't get anything, as far as a physical gift, in return?  What am I willing to sacrifice in order to accomplish the previous three questions?
I know that I'm a very blessed individual as far as my material wealth.  Just the fact that I live in America puts me far above the large majority of the rest of the world's population.  Even so, I also know there are people around me here in my daily life that are in great need.  I've been praying that God would awaken a greater awareness in me concerning the needs of those around me, as well as bringing me into a more selfless attitude in how I might be able to help those same people.
This Christmas let's try to not focus so much on what we will get, but instead more on what we can give. Let's let God use us in the life of another to remind them that they really do have a Savior Who loves them enough to use others to help them in a time of need.
God bless you and your families this Christmas!
December 6, 2018
A BIG Thank You! - I want to thank all of you for making Gideon and I's birthday party a wonderful success.  I thank all of those for the gifts, cards, and kind words that were given to us.  However, I most want to thank each of those who came out to join us.  We had a great time and terrific fellowship.  My whole family was touched by the love and support that was shared.
On top of all of that, we want to thank those who jumped in and helped out with set up, food, and clean up. We certainly didn't expect all of the help, yet so many of you just chipped in and started helping (Grace was especially thankful).  We were touched by the example of selflessness shown by so many.  We love our churches and are very thankful to have each of you as brothers and sisters.
THANK YOU!
November 15, 2018
Courageous to the End - Sometimes we can become weary in well doing.  I mean this in reference to church activities, and specifically soul winning.  I'm encouraged by what it says in Galatians. 6:9 "And let us not be weary in well doing: for in due season we shall reap, if we faint not."  Brothers and sisters, we are getting very close to the time that will fulfill the reaping aspect of this verse.  Now is not the time to grow tired and impatient of the work that lies before us.  In fact, if there was ever a time to be more persistent and dedicated in this great work, it is precisely now.
I believe that is part of the reason that, "here is the patience of the saints", in Revelation 14:12 is stated (It is also mentioned in Revelation 13:10).  This is mentioned concerning God's last day people, the remnant who are faithful to the end.  They will be a people who are steadfastly enduring, persevering unto the end.
The ongoing struggles within the world church can become tiresome and frustrating.  The ongoing tragedies, sicknesses, and natural disasters constantly happening around us can become discouraging, but these are all the more reason to know that now is not the time to become lax in our spiritual duties.  Contrary to this notion, these things should be constant reminders of our necessity to be praying for our church and working even harder to reach the lost before tragedy or disaster strikes them.
Be not afraid, "God is not slack concerning His promises…" (2 Peter 3:9).  He will be faithful to the end.  The only thing in question is; will I be faithful to the end, will you?  One of my favorite promises comes from 1 Chronicles 28:20, where it says, "…Be strong and of good courage, and do it; do not fear nor be dismayed, for the Lord God—my God—will be with you.  He will not leave you nor forsake you, until you have finished all the work for the service of the house of the Lord."  Let's take God at His promises and move forward courageously in the work our Lord God has set before us.
Pastor Jason Logan
November 1, 2018
Thank You - I want to say thank you to the Greeley Seventh-day Adventist Church.  As a church you have truly made this a very special month for me as your pastor.  Above that, you've been able to do the same for my family.  We are truly humbled at your generosity to us and the love you have shared with us through cards, gifts, and little notes of appreciation. We are greatly blessed to have you as part of our greater church family.
I believe that God has great and wondrous plans for the Greeley church in the coming days.  I'm excited at what He is already doing and can't wait to be a part of what is to come.  I pray that we as a body will continue to come together in unity with each other and with Christ in the Holy Spirit to fulfill God's plans for us in the Greeley community.  I also pray for continuous and extraordinary growth for each of us as individuals in our personal walk with our Lord and Savior.
Philippians 1:3-11 applies as a good closing to my personal thanks to you as a church body. "I thank my God upon every remembrance of you, always in every prayer of mine making request for you all with joy, for your fellowship in the gospel from the first day until now, being confident of this very thing, that He who has begun a good work in you will complete it until the day of Jesus Christ: just as it is right for me to think this of you all, because I have you in my heart, inasmuch as both in my chains and in the defense and confirmation of the gospel, you all are partakers with me of grace.  For God is my witness, how greatly I long for you all with the affection of Jesus Christ.  And this I pray, that your love may abound still more and more in knowledge and all discernment, that you may approve the things that are excellent, that you may be sincere and without offense till the day of Christ, being filled with the fruits of righteousness which are by Jesus Christ, to the glory and praise of God.
Thank you and God bless each one of you,
Pastor Jason Logan